What if you were asked to choose the item of clothing that you felt was the most comfortable, all you men out there? We are confident that the "t-shirt" will come out on top. This is due to its wide range of applications. It is the most prevalent item of clothing that may be found in almost everyone's closet.
But in reality, you can never have too many t-shirts in your lifetime. T-shirts are in high demand due to the shifting fashions, patterns, and trends. Before making your next purchase, do you want to know some of the best t-shirt brands? You can benefit from this content!
10 Best T-Shirt Brands In India For Men
Were you searching for the finest collection of t-shirts? The best brands listed below can help you! So without further ado, let's begin with the best t-shirt brands for men.
1. Adidas
Adidas is a well-known clothing company that specialises in selecting t-shirts for men and women. To suit your needs, they come in various colour schemes, pattern designs, and styling options. Additionally, you feel cosy wearing it because of the permeable fabric elements. In conclusion, it looks great with both jeans and trousers. Get some of Adidas's most excellent bargains to help you reduce your overall spending.
Price Range: Rs 649/- to Rs 2,099/-
2. Nike
Nike is a global American brand that sells a variety of clothing items, including shoes, pants, t-shirts, and sporting goods. Selecting the gender, size, colour, brand, technology, fit, materials, features, benefits, and lines will also filter the results.
Price Range: Rs 899/- to Rs 7,995/-
If price is your biggest concern, you can make use of Nike coupons that lets you save bigger while shopping at this store. Or if you are shopping from myntra then visit our myntra coupons page to get applicable discount codes.
3. Jack & Jones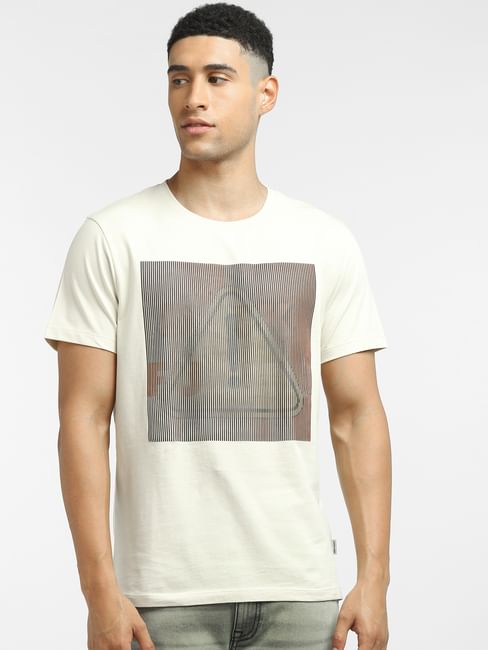 Jack & Jones has completely revolutionised the menswear industry. It was launched as a jeanswear brand in Denmark in 1990 and has since taken the top spot globally. Whether customers want polo t-shirts, round-neck t-shirts, v-neck t-shirts, or any other style, the company can meet their needs. Additionally, the materials used to create t-shirts are amazing. You will undoubtedly fall in love with Jack & Jones after wearing one of their t-shirts!
Price Range: Rs. 500 to Rs. 2509
4. Wrogn
Another top T-shirt brand for men on the market is Wrogn, which is co-owned by Virat Kohli, the captain of the Indian cricket team. The business creates incredible men's t-shirts that are both lovely and worth the money. Simple yet eye-catching designs, long sleeves, short sleeves, etc. You can find everything you're looking for and still look quite good.
Price Range: Rs. 399 to Rs. 1999.
5. HRX by Hrithik Roshan
Another well-known brand of t-shirts that provides comfort and ease throughout use is Hrx. The company primarily focuses on client pleasure by offering high-quality apparel at reasonable prices. On the left side, there is a filter option that allows users to sort the colour, size, material, style, cost, and various other parameters according to their tastes.
Price Range: Rs. 249 to Rs. 3000.
6. Allen Solley
Are you trying to find a quality yet stylish men's t-shirt brand? You only need Allen Solley! With a fantastic selection of men's t-shirts, the brand has built up a strong reputation over the years. Wear a shirt over them or pair them with some jeans. Wherever you go, they'll make you seem camera-ready.
Price Range: 473 to 1999.
7. United Colors of Benetton
Another well-known men's fashion company is United Colors of Benetton. With its stylish selection of t-shirts, the Italian firm, which was founded in 1965, aims to make you appear icy and vicious. Its t-shirts are so adaptable that you can wear them to work or social events.
Price Range: Rs. 500 to Rs. 2599.
8. H&M
Looking for the trendiest selection of t-shirts? You've found it! You've found it with H&M, a Swedish international apparel firm established in 1947. Through the years, the company's remarkable selection of goods has genuinely revolutionised the fashion business. The business is also a leading supplier of stylish yet incredibly comfortable men's t-shirts. You may use the H&M coupon code to get its t-shirts for an amazing price and save a lot!
Price range: Rs. 700 to Rs. 2299.
9. Levis
The following is our list is the American clothing company, Levis. The business is well known for its stylish t-shirts and denim pants. It was established in 1853 and is now regarded as one of the top fashion companies worldwide. Its t-shirts are created with premium materials and are styled to go with current running fads.
Price Range: Rs. 900 to Rs. 2599.
If the Myntra store didn't have any more t-shirt brands, try the official Levi's website. There, you can locate every type of t-shirt that suits your tastes, such as size, colour, and pattern. Additionally, use Levis discount codes to purchase them for less.
10. Pepe Jeans
Popular denim company Pepe Jeans was founded in 1973 to provide high-end products for adults, adolescents, and children. To provide exceptional comfort, it is made of 68% polyester, 28% viscose, and 4% elastane. You can also save up to 10% by subscribing to a newsletter.
Price Range: Rs 419/- to Rs 999/-
Our Curation Process – T-Shirt Brands for Men
It's now easy to get a t-shirt thanks to the abundance of online merchants. They offer top-notch services like t-shirt catalogues, customer reviews, ratings, and more to enhance your shopping experience.
Following 96 hours of thorough study, we have compiled a list of the best t-shirt brands that will suit your demands in terms of fashion and price. Let's look at it:
Brand
Material
Quality
Comfort
Fitting
Machine
Washable
Adidas
9.6
9.8
9.7
9.7
Nike
9.8
9.9
9.9
9.7
Jack & Jones
9.4
9.2
9.5
9.5
Wrogn
9.2
9.4
9.4
9.6
HRX by Hrithik Roshan
8.5
9.1
9.2
8.9
Allen Solley
9.8
9.9
9.9
9.4
United Colors of Benetton
9.1
9.6
9.7
9.5
H&M
9.3
9.7
9.3
9.4
Levis
9.0
9.5
9.5
9.5
Pepe Jeans
9.1
9.4
9.8
9.4
The table depicts the ratings of different t-shirt brands by considering the material quality, comfort, fitting, and machine washable options. And all our ratings are based on test-analysis, that we conducted online and offline.
Material Quality
Material quality is an important consideration when purchasing a t-shirt, so we made it the primary criterion for our selection. To provide outstanding comfort levels, the majority of these well-known brands employ premium eco-friendly materials including cotton, polyester, and linen.
Comfort
Hard materials are less comfortable to wear than soft and light fabrics, as we discovered during our testing process. It gives you the confidence to attend parties or special events since you know it will look beautiful.
Fit
Another significant factor we consider when choosing Indian t-shirt brands is comfort. The majority of them come in several fitting styles, including classic, slim, modern, contemporary, and skinny.
Machine Washable
Finally, we have regarded the machine washable option as a part of our curation process to inform you of how different brands of t-shirts hold up when washed. The t-shirts of low quality faded rapidly, but the premium brands described above have a favourable sign without harming the clothing.
Amazing Tips for Buying Best T-shirts for Men Online
Men find it difficult to choose t-shirts because there are so many possibilities on the market. You might not want to dedicate hours to research work when you have a busy work schedule. Therefore, after doing the in-depth study for a few days, we simplified things for you by providing a hassle-free shirts guide for men. For straightforward instructions on ordering the t-shirts online, read the material below.
Know Different Types of Men's T-Shirts
In the growing fashion market, t-shirts are offered in a variety of hues, materials, and patterning. They encourage children, teenagers, adults, and seniors while being simple and pleasant to wear. They come in several types because of their versatility. To learn more, scroll down!
V-Neck
The name "V-neck" refers to how the form of the shirt's neck resembles a "V." It looks fantastic with jeans and is the ideal choice for those with round faces. Make sure the neckline of the V-neck you choose does not extend below the armpits.
Polo Collar
Polo collar T-shirts are the common name for shirts with polo collars. With solid short sleeves and patterned motifs, they come in a knitted wave style. Fabrics made of cotton and elastane are frequently utilised in the production process to provide comfort and a masculine appearance.
Half Sleeve
Tees with half sleeves have a crew neckline that is basic and fashionable. All skin types can wear it because the neckline extends to the base of the neck.
Long Sleeve
Long sleeves resemble models with half sleeves. The only exception is that long sleeves come with lengthy arms, which makes them perfect for wearing in the chilly winter months to keep the body warm.
Easy to Wear
Nothing compares to tees in terms of comfort options. Men can enjoy the highest levels of comfort, regardless of the fabric, pattern, or colour. Additionally, it saves you important time and effort while you are hanging out with pals at events. Additionally, you may pair these great t-shirts with pants, shorts, jeans, etc.
Machine Wash
Tees do not create allergic responses in the body because they are composed of 100% cotton materials. Cotton is a permeable fabric, making oil stains and unpleasant odours easy to remove from the washing machine. It conserves energy and water, and the clothing lasts longer than anticipated.
Budget-Friendly
T-shirts are more affordable than other models because of the low cost of production. Instead of spending hundreds of dollars on garments that don't fit your body type, if you like shirts, you can buy them in bulk.
Conclusion:
Wear a t-shirt if you're unsure! You will undoubtedly come off as classy and sassy. Remember to look through the list above and select the brand you liked the most the next time you plan to get a t-shirt. Happy shopping! 🙂
T-Shirt Brands FAQs
What are the best t-shirt brands to buy online?
Adidas, Nike, Wrogn, Hrx, and Allen Solly are some of the popular t-shirt brands one can shop for in online stores.  
What factors should I consider while buying a t-shirt for men?
When purchasing men's t-shirts, factors such as fabric type, neck style, sizes, brilliant colours, and pattern designs should be considered.
What materials are used in manufacturing a t-shirt?
T-shirts are frequently made from cotton, polyester, linen, lycra, and rayon materials because they give the highest amount of comfort.
How long can you wear a t-shirt?
T-shirts can normally be lasted for 6-8 months, depending on usage and upkeep.
What sizes of t-shirts are available for men?
Men's t-shirt sizes are available in XS, S, M, L, XL, and XXL and one can pick the right sized t-shirt based on the body type and size.